Dutch Dressage News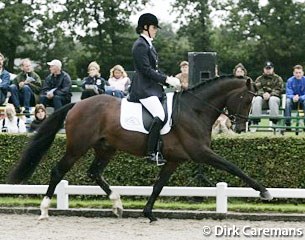 The 2007 Dutch Rabo Talent Team has been presented at the Indoor Brabant CDI-W 's Hertogenbosch show last weekend in 's Hertogenbosch, The Netherlands. The members of the Rabo Talent Team were selected by the chef d'equipes of the Dutch Equestrian Federation
based on the riders' most recent performances.
The Rabo Talent Team, sponsored by the Dutch Rabobank, is assembled annually and consists of the most talented young riders of The Netherlands up to 25 years old in dressage, show jumping and eventing. Each member of the Talent Team gets 2,000 euro which they can spend on the improvement of their riding career.
The Rabo Talent Team Dressage for 2007 is constituted byt:
Lotje Schoots
Diederik van Silfhout
Dominique Filion
Emmelie Scholtens (pictured)
Each year a Talent of the Year is proclaimed. Previous winners were dressage riders Laurens van Lieren, Angela van den Berg, and Marlies van Baalen and show jumping riders Gert-Jan Bruggink and Gerco Schröder.
Photo copyrighted: Astrid Appels / Eurodressage
Related Links 
Laurens van Lieren, Rabo Talent of the Year 2005 
Angela van den Berg, 2004 Rabobank Talent of the Year