2006 New Zealand Dressage Championships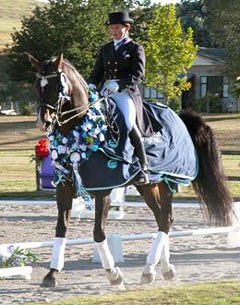 Just before Christmas, at a seminar at Palmerston North, Olympic and German champion dressage star Isabell Werth said to Raglan rider Jody Hartstone, of her horse Landioso, "He is your professor; learn as much as you can from him while you can".
Yesterday, the wisdom of that advice was proved when Hartstone and the 19-year-old imported Holsteiner stallion rode away with the Burkner Medal, the country's supreme dressage award, at the Bates New Zealand Championships at Taupo.
Hartstone, who operates a sport horse stud, imported the stallion three years ago, partly as a grand prix schoolmaster, partly to introduce his blood to her breeding programme. He has proved himself at both jobs, but yesterday the pair pulled out all the stops to present possibly the finest Grand Prix Kur, or musical freestyle, that has been seen here to win the class on a whopping 68.65% and secure the national championship after winning their classes on Thursday and Friday.
The pair has, to some extent, been playing "bridesmaid" for the past couple of seasons and, occasionally, when Hartstone has tried to organise the horse too much, he has taken offence, but with Werth's words ringing in her ears this weekend, Hartstone secured the big win that has just evaded them until now.
Reserve to them for the Kur and the championship was Bill Noble on his NZ-bred Vincent St James, winners of the 2005 Horse of the Year title...
With yesterday's championship finals worth double points, there were some surprises in the other grade overall title results but, as expected, young rider Amanda Goldsbury (Hawke's Bay) and Glenturret secured the Advanced championship, her trainer and 2000 Sydney Olympics rep Kallista Field (Pahiatua) on Waikiwi trotting off with the Medium trophy.
Brigette Learmonth (Kumeu) and her mother's Australian-bred Grunelius Legacy have had a clean sweep over the eight or nine times they have competed this season, and it was no surprise to see them lead the table for the Medium title.
Similarly, having been unbeaten all weekend, Nelson schoolgirl Emma Malcolm and Donnerheim secured the Elementary championship.
RESULTS Bates New Zealand Dressage Championships:
Novice final:
1. Julie Brougham (Palmerston North) Gymstar One 
2. Gael Kofoed (Christchurch) Il Divo 
3. Jutta Rosenblatt (Wanganui) Vollrath Dornkaat
Overall Novice Championship: 
1. Jutta Rosenblatt, Vollrath Dornkaat 
2. Julie Brougham Gymstar One 
3. Peter Barke (Rotorua) Aachen II 
4. Betty Brown (Waverley) Kinnordy Gym 
5. Kelly Van Dyk (Cambridge) Anastasie
Preliminary Final: 
1. Fiona Fraser (Pukekohe) Dream Gift MH 
2. Caroline Simpson (Te Awamutu) Raimius SL 
3. Joanne Greaves (Masterton) Ashbury Dolly
Overall Preliminary Championship: 
1. Fiona Fraser, Dream Gift MH 
2. Joanne Greaves, Ashbury Dolly 
3. Caroline Simpson, Raimius SL 
4. Soo Wells (Kaiapoi) Gluck Star MH 
5. Casey Johnson (Kaitaia) Dabado MH
Elementary Final: 
1. Emma Malcolm (Nelson) Donnerheim 
2. Amanda Goldsbury (Hawke's Bay) Avante Garde 
3. Cass-Andra Dally (Hamilton) Huntington Picasso
Overall Elementary Championship:
1. Emma Malcolm, Donnerheim 
2. Amanda Goldsbury, Avant Garde 
3. Cass-Andra Dally, Huntington Picasso 
4. Sophie Akers (Palmerston North) Cool Customer 
. Sharon Inwood (Seddon) Padrino
Medium Final: 
1. Brigette Learmonth (Kumeu) Grunelius Legacy 
2. Charlott Shaw (Cambridge) Aloof 
3. Tracey Johnson (Blenheim) Smash Palace.
Overall Medium Championship: 
1. Brigette Learmonth, Grunelius Legacy 
2. Charlott Shaw, Aloof 
3. Christine Weal (Te Awamutu) Underdiscussion 
4. Tracey Johnson, Smash Palace 
5. Sally Field-Dodgson (Christchurch) Amberleigh Elite
Open Medium Final: 
1. Vanessa Way (New Plymouth) KH Arvan 
2. Kallista Field (Pahiatua) Waikiwi 
3. Lynne King (Taupo) On the Ball
Overall Open Medium Championship: 
1. Kallista Field, Waikiwi 
2. Vanessa Way, KH Arvan 
3. Laurel Cross (Blenheim) Winter Acacia 
4. Lynne King, On the Ball 
5. Sarah Wilkinson (Kaukapakapa) Greendowns Laredo
Intermediate I Advanced Final: 
1. Charlott Shaw (Cambridge) All Black II 1; 
2. Sheena Ross (Pukekohe) Glenbrae Ivanhoe 
3. Karen Anderson (Whangarei) Komplete Kaos
Overall Advanced Championship: 
1. Amanda Goldsbury (Hawke's Bay) Glenturret 
2. Charlott Shaw, All Black II 
3. Vanessa Way, Winter's Realm 
4. Karen Anderson, Komplete Kaos 
5. Sheena Ross, Glenbrae Ivanhoe
FEI Grand Prix Kur (CDI-W):
1. Jody Hartstone (Raglan) Landioso 
2. Bill Noble (Ardmore) Vincent St James 
3. Mandy Littlejohn (Wanganui) Charlton Highbrow
Burkner Medal, NZ Dressage Champion: 
1. Jody Hartstone, Landioso
2. Bill Noble, Vincent St James
Text and photos by Joan Gilchrist
Related Links
First Shots Fired at 2006 New Zealand Dressage Championships
Top Programme at 2006 New Zealand Dressage Championships