2005 World Cup Finals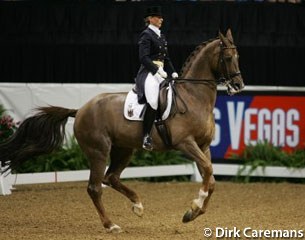 For German Ann Kathrin Linsenhoff, the 2005 World Cup Finals did not go according to the planned scenario. In the Grand Prix, her Oldenburg gelding Renoir Unicef (by Rubinstein) was on a different wave length
than his rider and the combination scored deep below their usual level. Fortunately, Linsenhoff was able to recover in the World Cup Consolation Freestyle.
In the Grand Prix, Renoir "could not maintain connection and was too much horse for Ann Kathrin," Eurodressage reporter Lita Dove wrote. "He did not look fit." Linsenhoff scored only 70.458% in the Grand Prix and was referred to the Consolation Freestyle to next day.
In the B-finals, Linsenhoff got more out of her 18.1 hands high Renoir. The judges awarded her ride with a 76.150%, which put her first on the leader board. "Renoir appeared much more willing in the B-finals. He agreed to work for Linsenhoff, but overall the performance was still flat," a critical Dove reported.
A much more interesting performance was produced by Canadian Leslie Reid on Mark. In the Grand Prix, Mark was a bit too impressed by the Thomas & Mark center and stalled in the ring. "They recovered nicely with really good pirouettes and a nice zig zag, but the damage was already done," Dove said. "A very good final centerline could not make up for the impression."
In the B-finals Mark was sharp to the aids and he really showed off his trademark smooth transitions. Riding to a difficult choreography, Reid got a higher and bolder passage and beautiful pirouettes. "The piaffe and transitions were still a little weak, but the horse was willing this time. The double pirouettes held rhythm and engagement," Dove said. "The difference came down to the piaffe and the one handed passage finish. Judge Axel Steiner gave her 80.00 for artisticity."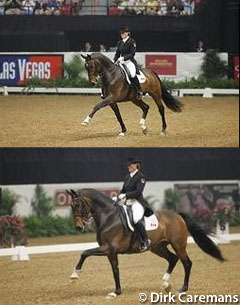 With a 74.350% score, Reid ranked second and said, after a successful freestyle, "it's good to be involved in this level of competition." She shrugged philosophically about the mistake in the Grand Prix, when Mark misinterpreted a signal and the pair lost too many valuable points to place top 12. "I can't say what I might do about the mixed signal, it's never come up before, and I don't plan for it to come up again," she laughed.
Just bad luck, as she and Mark have been scoring quite consistently above 70% at the last big CDIs and qualifiers in Canada and California she entered in order to get here. "I definitely enjoyed being here, feeling that Mark and I belonged here." There's no doubt that it is important to go to Europe and learn to deal with the various stresses, the indoor arenas, the crowds, the top riders as just part of each week's scenery. If you want to be 'in the loop,' and top sport is what you want, then this is what you have to do," Reid commented.
The 10-year old Dutch warmblood gelding Mark (by Edison) is just at the beginning of his international career, but Reid already has another possible star, Orion, a chestnut gelding by Jazz, now showing successfully in small tour. "He finds everything pretty easy," she says in her low-key way, "he just needs time to mature."
Asked what the future holds, she smiled, "the horses kind of shape the future, we'll just have to see how it shapes up."
Placing third in the B-finals was Russia's Elena Sidneva aboard Artax Condor. Still charming in the show ring, Condor scored 74.125%. "Artax Condor is still a favorite, but the pizzazz is fading. The fabulous passage is not quite as magnificent and he goes a little wider behind in the half passes and  pirouettes, but he's still flopping his ears in time to the Peter and the Wolf music," Dove said.
Text by Lita Dove and Astrid Appels
Photos Copyrighted: Dirk Caremans
Eurodressage Coverage of the 2004-2005 World Cup Finals