2005 World Cup Finals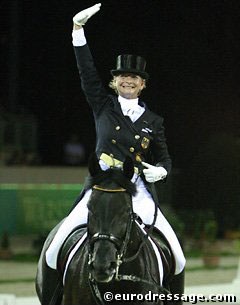 The problems concerning the transportation of the horses qualified to compete at the 2005 World Cup Finals in Las Vegas have been solved. At the CDI-W Dusseldorf last weekend, the dressage riders complained
about the airplane that was going to fly their horses to the States.
According to the riders it was too small (three horses per palette) and did not provide the necessary facilities to make the flight comfortable for the horses (only one groom per three horses allowed). At first instance, Las Vegas Events promised to provide a bigger airplane, but they changed it a smaller one. In Dusseldorf, the dressage riders, supported by the show jumpers, threatened to boycott the World Cup Finals if they did not get the promised airplane.
Fortunately, Las Vegas events caved in and provided the right transportation for the horses. The Dutch horses Salinero, Lingh and Barclay II are traveling separately with Swedish horse Bjorsells Briar to Los Angeles, where they will be picked up by a lorry who is driving the four quadrupeds to Las Vegas.
The other World Cup dressage horses are sharing a plane with the show jumpers and have more room on the plane like that.
The German dressage horses Anthony FRH, Aramis and Renoir Unicef leave from Amsterdam on April 15, accompanied by German team vet Dr. Nolting. German Chef d'Equipe Holger Schmezer and riders Isabell Werth, Ann Kathrin Linsenhoff and Hubertus Schmidt will fly directly to Las Vegas.
Photo copyrighted: Astrid Appels/Eurodressage
Eurodressage Coverage of the 2004-2005 World Cup Finals