2005 U.S. League World Cup Finals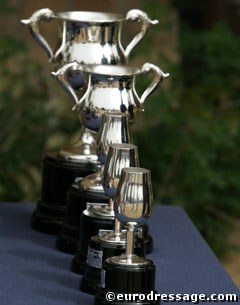 At the United States League Final Qualifier for the 2005 Dressage World Cup Finals, transparency was everywhere. The Finals were part of the annual Festival of the Horse CDI, in Burbank, California, which is hosted at the Los Angeles Equestrian Center.
Courtesy of Pete Jorgensen and Fox Village, the electronic scoring was visible, immediate, fun to watch, and one further perk for the spectators, if you had tickets for the Equidome, you could access either of two laptops, generously provided by (and locked into place by) Fox Village, so that anyone with a little computer savvy could immediately access ALL the scores of ALL the classes in the show, not merely the League Finals, but the entire CDI.
But even more interesting, perhaps, in terms of transparency was the ease with which the audience was able to pick out and reward the really good performances.
No one needed to see the scores to rate harmony. No one needed the judges' handbook to figure out which pairs had power and rhythm and balance and partnership—the key concepts of dressage.
I dare say that an applause-o-meter could have placed the classes just as fairly and surely as the estimable judges, the panel including Elizabeth McMullen (O), Mary Seefried (O), Hanne Valentin (O), Trond Asmyr (I), Janet Brown (I) and Lois Yukins (I).
Respect for Debbie and Brentina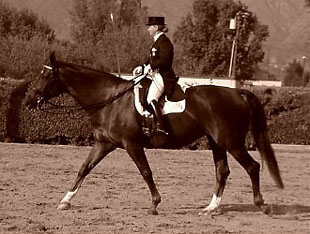 There could not have been more than two spectators who would bet against Debbie McDonald and Brentina (by Brentano II x Lungau)—and those two probably want to buy oceanfront property in the Sahara Desert.
This pair was just a pleasure. This was the debut for the new freestyle—the tone set at the beginning and end, as the strains of Aretha Franklin's "(All I Want Is a Little) RESPECT" played as the pair entered and finished.
Debbie's supporters have made clear their feelings that this pair represents the harmony which is supposed to be the hallmark of true dressage, and that the pair have been slighted to some extent by the judges who reward sheer brilliance at the expense, perhaps, of some rhythm and partnership.
In any case, the pair entered at passage, made one of several quarter-turns (the new movement that several freestyles featured, quarter-turn in passage or piaffe into something else). In Debbie's freestyle, this became half-pass in trot, into a complete canter circle of two-tempi's, perfectly in time to the music, followed by gorgeous pirouettes. The piaffe and passage had more energy and lift than I've seen from this pair in some time, the mare in true rhythm and really coming off the ground…the entire performance just a delight—and one can be reasonably sure that Debbie left plenty in the tank, for the REAL performance in a few weeks in Las Vegas.
Leslie Morse and Kingston Hit a Peak
Leslie Morse and her KWPN-bred stallion, Kingston (by Voltaire), definitely had game-face on as they entered the Equidome. Morse had just returned to California after an extremely successful campaign with both her stallions in Florida, including one outstanding freestyle win over Robert Dover and Kennedy.
This pair did not disappoint. They started their in your-face-freestyle, from the first booming chords of "Pirates of the Caribbean," this was meant to awe and astonish—and for the most part, it did. Very high quality piaffe and passage and pirouettes, much of it done directly in front of judges everywhere. Kingston has never before looked this strong and engaged. He has always had presence and been a crowd favorite, but not the physical condition to sustain the power through an entire performance. This time, this show, he hit a peak..but Leslie promises he has more left in the tank, as well!
These two performances were far superior to all the rest, percentages not telling the entire story.
Dover and Seidel Get Wild Cards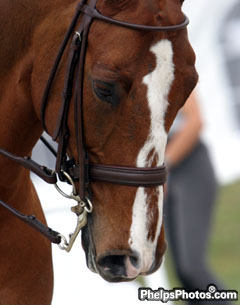 Speaking of Robert Dover, he was present all weekend in Los Angeles. He explained why he had opted to petition for a wild card (which he has, of course, been granted) instead of competing FBW Kennedy in the U.S. League Finals. His back only has so many more rides in it—sort of like the number of jumps in a horse's legs—or number of pirouettes! Dover also mentioned that he wanted to spare his 15-year old Kennedy from two strenuous plane flights to the West Coast. In any case, Robert plans for Las Vegas to be a memorable performance—let us hope Kennedy does as well.
Third place in the Finals went to Guenter Seidel and a rather tense Aragon, the performances marred by erratic transitions and a helicopter tail. I can only hope they recover the form they showed at Athens , where there may have been some 'green horse' errors, but the pair had much greater fluidity and harmony.
Guenter and Aragon have, of course, also been granted a wild card for World Cup, as the organizers have faith in both rider and horse's much-proven abilities..
Peters and Reid Dominate Grand Prix Tour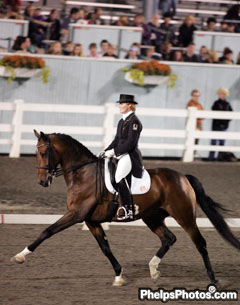 There were some outstanding rides at the CDI, even outside the League Finals.
The Canadian representative to World Cup, Leslie Reid, brought her Dutch Warmblood partner, Mark, (by Edison) and proceeded to win the CDI Grand Prix. Mark, Reid's partner at Athens, has developed even since then, his new power allowing for greater engagement, more expression in the piaffe and passage.
Steffen Peters (fifth in the League Final with Athens partner, Floriano) was second with his latest Grand Prix star,the Holsteiner gelding, Lombardi II. This horse appears to have it all—piaffe, passage pirouettes, and elasticity. A little more strength and seasoning and he will definitely be hard to beat, in any company.
Orion, Felix and Marlando, New Hope for Olympians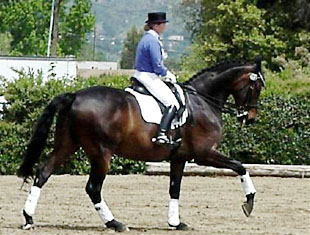 Leslie Reid and Debbie McDonald both showed new young stars in the small tour classes. Reid showed Orion, a chestnut gelding by Jazz. This was his first major Intermediaire One, and Reid could not have been more pleased. His score of 71.778 reflected her accurate ride and his transitions and elegance.
Debbie McDonald previewed the latest star, a 17.1 hand dark bay gelding Felix (by Fabriano), owned by longtime patrons Peggy and Parry Thomas of Idaho.
Felix has enormous presence and power, as well as elasticity and an electrifying, gravity-defying trot. Nevertheless, his greenness showed in the canter work, where he was so full of himself in the warm-up, a couple of times, it looked as though he might throw rather petite McDonald over the pommel of the saddle.
Fortunately, such high jinks were basically confined to the warm-up. Only a few mistakes in the tempi changes during one test proved to be the difference in the final scores—Felix and McDonald were Reserve Champion, while Steffen Peters and the more experienced Marlando took the Champion ribbon for the small tour.
Third over all and first in the Intermediaire Freestyle, were Charlotte Bredahl-Baker and Eskada, a 17 hand black gelding she has only been showing for a few months. Bredhal-Baker was,of course, part of the bronze medal U.S. team at the Barcelona Olympics.
She left her other new star home, the stallion Windfall (by Weltmeyer), so he could concentrate on breeding duties, and was very pleased to be able to focus on Eskada.
"I didn't think that much of him at first, I've only had him since late last year. And I showed him Fourth a bit.,he did very well... This show was his very first Intermediaire One..not too bad!"
All Work and No Play....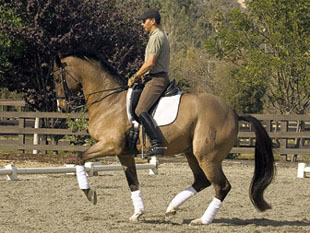 One of the more entertaining moments of the show were provided during the awards ceremony for the Intermediaire Championship.
Steffen Peters had just finished a Grand Prix test on Lombardi, and decided it made more sense to just stay tacked up, rather than go fetch Marlando.
So it was Lombardi, "the quietest horse in the barn", according to one of Steffen's assistants, who marched back into the ring, along with Debbie McDonald and Felix ,for the presentation.
Something about the background music must have spoken in silent tongue to Lombardi, because he spent a good deal of the awards ceremony on his hind legs, making big, playful leaps forward. Steffen just laughed and shrugged.. Eventually, Lombardi stopped leaping, and began keeping time to the music with a foreleg. Suddenly, Felix decided that was a capital idea, and matched Lombardi and the beat of the music with his own foreleg!
Debbie just shrugged, as both horses pawed in unison and in tempo, to the great amusement of the crowd.
Show organizer Glenda McElroy, who has been part of organizing just about every important show and symposium in North America, felt that this was the smoothest and best League Finals so far. "The level of the performances, the skill of the riders—it has all come a long way and was definitely showcased here."
And best of all, the rather unpredictable weather held up for four days of no wind, no rain, no scorching heat…just southern California blue sky and a lot of happy spectators—and even some happy riders.
And of course, happy horses..
By Lita Dove for Eurodressage
Related Links
Scores of the 2005 U.S. League Finals in Burbank
Coverage of the 2005 World Cup Finals