2005 World Cup Finals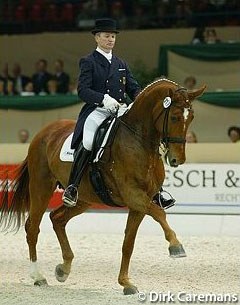 Dressage riders anxious to claim those final qualifying points in the hope of getting to the FEI World Cup Final in Las Vegas have arrived in Germany this weekend for the final round of the Western European League.
Reigning champion Anky van Grunsven heads the line up with Salinero, but the Dutch six-time World Cup victor just has to complete the required two starts in qualifying events before packing her bags for the USA.
With Switzerland's Silvia Ikle a declared non-starter for the Final, Las Vegas has become tantalisingly closer for the riders aiming to make the top eight in the League standings. Although allowed normally to ride a maximum of five qualifiers with points from only four to count towards the final standings, this show is open with all riders eligible to compete here.
Both Germany's Hubertus Schmidt, who will ride Aramis, and Sweden's Jan Brink with Bjorsells Briar have only done three competitions, so are in strong positions. Brink is in tenth place but considered a risk by his competitors. Schmidt currently lies in equal eighth place with Denmark's Lone Joergensen, but Joergensen has already filled her points' quota and can only go up the list if she improves on a previous performance. Holland's Sven Rothenberger is in the same position, but higher up the standings in sixth place. One threat they won't have to cope with is Spain's Beatriz Ferrer-Salat. The Olympia winner and Stockholm runner up was expected here if Beauvalais was 100 match-fit after the cold that forced his withdrawal from Mechelen, but it was not to be.
In addition this weekend, the US League Final takes place at the Los Angeles Equestrian Center in Burbank, California. Olympic team Bronze medallist Debbie McDonald heads the cast of five stars vying for the home team's two slots in Las Vegas. McDonald sadly had to miss out on last year's final (where she was defending champion) as Brentina was not match fit after a minor injury. She will be up against Athens team-mates Guenter Seidel, who has entered both Aragon and Nikolaus, and Leslie Morse who also has two chances with Olympic mount Kingston and Tip Top. Team reserve Steffen Peters competes Floriano while fellow Californian Carol Plough will ride Komo. Leader of the US standings with Kennedy, Florida-based Robert Dover has applied for a wildcard.
That result will be known on Sunday, but on Saturday the centre of attention will be Germany as the nine-show FEI World Cup Dressage Western European League comes to a climax.
by Bernadete Faurie
Photo copyrighted: Dirk Caremans
Eurodressage Coverage of the 2004-2005 World Cup Finals