2005 World Cup Finals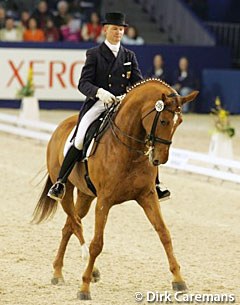 At the World Cup Qualifier in Neumunster, Germany, Swedish Jan Brink and German Martin Schaudt tied for first place in the Grand Prix. Brink rode his number one horse Briar and scored 71.50%, while Schaudt was aboard his number two, Loesdau's Loriot.
However, there is a more important story attached to the Grand Prix in Neumunster. Hubertus Schmidt rode the winning score, but has been disqualified for entering the ring with a whip.
Head of the jury, Beatriz Burchler Keller, disqualified him for that (supported by FEI Dressage committee chairwoman Mariette Withages). The new FEI rule says that no whips can be carried in the show ring (even outside the main ring). Schmidt threw away his whip before his ride. Only during the award ceremony, when Schmidt was standing ready with the winner's cooler to receive the trophy, he got disqualified because someone protested against Schmidt's victory.
Schmidt had to give his first place to Schaudt and Brink, and lost valuable World Cup points which would have secured his place for the Finals in Las Vegas.
Image copyrighted : Dirk Caremans
Eurodressage Coverage of the 2004-2005 World Cup Finals