American Dressage News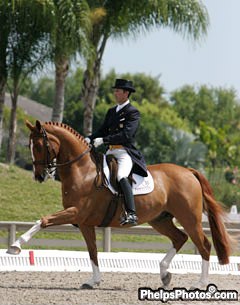 For six-time Olympian Robert Dover there is nothing special about another show season coming up. After having won the 2004 USEF Festival of Championships in California and a team bronze medal at the 2004 Olympic Games
in Athens, Dover and his routinier FBW Kennedy have once again closed off a year reaping titles (USDF Grand Prix Horse of the Year), trophies and ribbons.
For the 2005 show season, Dover has decided on a relaxed scheduled and set up a simple plan. "I will be showing him in the first CDI in two weeks [Gold Coast Opener]," Dover told Eurodressage, "and I am planning to do the other two CDI's in March and hopefully the World Cup Finals."
Even though Dover seems confident about his show future with Kennedy, he had to go through a serious scare in November 2004, when Jane Clarke's 14-year old Baden Wurttemberger Kennedy suffered a colic attack. The chestnut gelding was immediately transported to the Palm Beach Equine Clinic and had to spend the night there.
"Turbo did in fact have a colic in November which scared us all, but was fine by that night," Dover explained. Kennedy recuperated quickly, but since then he has been put on a low carb diet because he was becoming too fat. "He is fabulous now," Robert added.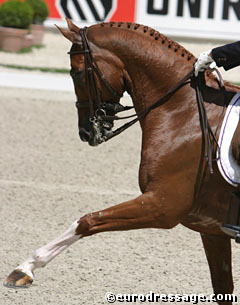 Since his arrival in the States in September 2003, Kennedy has been nick named "Turbo" "Kennedy has always been Turbo and with very good reason: he's a porsche," Robert explained.
Dover himself also developed a medical issue after the Olympics, as he started to deal with shoulder pains. In 2000, he was already operated on two herniated disks in his back. Now, an MRI showed that Dover has sustained two more herniated disks in his neck, which means he has to take extra care if he wants to continue a professional show career. "I have been having continuing back and neck problems, so who knows after that," Dover laconically said.
Robert's 2000 Olympic mount Rainier (Oldenburg gelding by Rolando x Figaro) will be campaigned in Florida by Katherine Bateson, who has been Robert's long time barn manager of Romance Farms in Wellington, Florida.
Images copyrighted: Astrid Appels for Phelpsphotos and Eurodressage.
Related Links
U.S. Riders Racing to World Cup Finals in Las Vegas 
Robert Dover and Kennedy Keep on Rolling at American Olympic Selection Trials 
Robert Dover and FBW Kennedy Grab Lead in American Olympic Selection Trials
FBW Kennedy Sold to the United States