2004 CDI-W London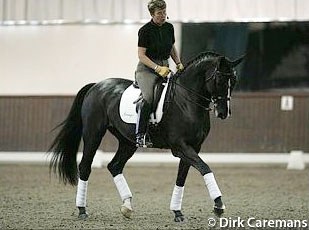 As predicted, the first-ever Dressage World Cup Qualifier to be held at Olympia will be the most exciting Dressage event to take place in Britain, since the 2003 European Dressage Championships.
The star-studded entries list includes one of the few people to have been European, World, World Cup and Olympic Champion, Isabell Werth (GER), Isabell is joined by 5 times Olympian, double World Championship competitor and a European Championship competitor on 6 occasions, Kyra Kyrkland (FIN). That is just the beginning, as Isabell and Kyra will be joined by 2002 WEG gold medallist Ann-Kathrin Linsenhoff (GER), Athens Olympic Bronze medallist Beatriz Ferrer-Salat Serra di Migni (ESP) and five other Athens Olympic competitors including Heike Kemmer of the gold medal winning German team, all of whom will be competing under the famous glass ceiling at Olympia.
Whilst British riders hoping to win the first Olympia Dressage World Cup Qualifier, which is supported by The Berkeley Group and Horse and Hound, look set to include Carl Hester, Ferdi Eilberg, Peter Storr, Richard Davison, Fiona Bigwood, Wayne Channon, Maria Eilberg and Laura Bechtolsteimer.
Amongst the 22 riders, ten nations look set to be represented including USA, Spain, Belgium, Finland, Denmark, Sweden, Holland, Germany, France and, of course, Britain.
The Ground Jury for the £21,700 event will be Mr. Stephen Clarke (GBR) – President, Ms. Beatrice Buerchler-Keller (SUI), Mrs. Jennie Loriston-Clarke (GBR), Dr. Dieta Schuele (GER), Mrs. Mariette Withages-Dieltsens (BEL) – three of whom were on the Ground Jury in Athens.
The Dressage Grand Prix will take place on the evening of Tuesday, 14th December, and the all-important Kür (dressage to music) will be held on the following evening, Wednesday 15th December.
Image copyrighted: Dirk Caremans