2004 CDI-W Aarhus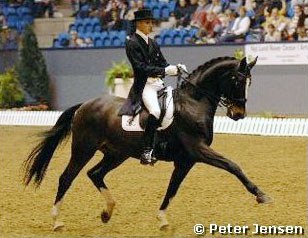 The opening competition of the FEI World Cup Dressage Western European League concluded today in Aarhus with the home side's Andreas Helgstrand and Blue Hors Cavan claiming top position, a resounding 4 per cent above their nearest rivals.
Helgstrand took over the ride on Cavan when his former jockey, Danish team medallist Lars Petersen, emigrated to the USA. In the words of Ground Jury President Stephen Clarke the pair performed " a powerful, expressive test, which also looked fun. They were both having a good time, which is how dressage should be."
Second place went to Germany's Ann-Katrin Linsenhoff, refreshed from her wonderful honeymoon on the Queen Mary after her marriage to Klaus-Martin Rath just a month ago. "It was our first show since Aachen [in July] so Wahajama-UNICEF was a little nervous in the grand prix. Today, though, she was just wonderful - we were really together and it was such fun to ride her." Ann-Katrin, who applauded the enthusiastic and sporting audience, is aiming for a slot to compete at the FEI World Cup Final, which will be held in Las Vegas, USA next April (20-23). "We are one step nearer!" she said.
Sven Rothenberger, who was in Athens this summer as a member of the Dutch Olympic team, which so narrowly missed out on a medal, was also delighted with the performances of his father-in-law's Barclay II. " We had a very, very good show", commented the third placed rider, who has ridden the horse for just over a year. " Even before Athens I felt there were a few things we should change, but it was only after that I could think changing anything. Now I feel Barclay is more settled, has less pressure mentally, and he has got stronger physically." Rothenberger credited his wife Gonnelien's insight for aiding this progress. Third prize winner with Olympic Bo at the 1994 Final in Los Angeles (which was the only previous Final to be held outside western Europe), Rothenberger would love to return to the USA to ride next spring, if his commitments to the Dutch team effort allow.
Jan Brink had been expected to shine here, but the Sweden's European silver medallist withdrew Bjorsell's Briar before the grand prix. His trainer Kyra Kyrklund, however, unveiled her nine-year-old prospective star Max to finish sixth in the FEI World Cup Dressage qualifier.
Aarhus, back in the calendar after being cancelled last year, was applauded by riders and officials for the user-friendly organisation, and clearly enjoyed by the crowd. Stephen Clarke commented: " It was very well organised with super facilities and produced a very good qualifier. The standard was very good, producing a 79 per cent winner, and with the top horses on 75 - 74 per cent, it was an above average class."
Source: FEI
Image copyrighted: Peter Jensen - Jensen was at the scene in Aarhus. 
Related Link
Scores 2004 CDI-W Aarhus