2005 World Cup Finals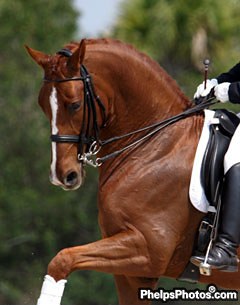 The former Canadian Olympic team rider Evi Strasser has taken the lead in the Rankings for the World Cup Canadian League Finals. By finishing second at the CDI Marienska in the Czech Republic, Strasser and her Oldenburg gelding Quantum Tyme
(Quattro B x Argentinus) gained valuable points to finish at the top of the leader board.
After 15 events part of the Canadian League, the final standings are now known. The top 5 riders of standings will compete at the League Final which will be held in the frame of the Royal Winter Fair in Toronto in November 2004. The best 5 will compete in the Grand Prix and the top 4 of the Grand Prix will compete in the Freestyle Final. Toronto will also host a leg of the World Cup Jumping.

FEI World Cup Dressage
Canadian League Final standings (as of 8th October 2004 )
1) Quantum Tyme /Evi Strasser (PQ) 70 pts
2) Gran Gesto/Jacqueline Brooks (ON) 62 pts
3) Proton/Cynthia Ishoy (ON) 31 pts
4) Korona/Shannon Dueck (FL) 29 pts
5) Mark/Leslie Reid (BC) 20 pts
Wholio/Jonathon Costin (ON) 4.5 pts

The CDI-W Kaposvar (HUN) will be the last event of the Central European League before the Final to be held held in Warsaw (POL) from 17 to 20 March. The Hungarian CDI-W will take place next week-end fron 15 to 17 October.2005.

Tatiana Yanson (RUS) is leading the standings of the World Cup Central European League on 38 points, closely followed by Iryna Lis (BLR) on 37 points. Tatyana Sleptzova (RUS) is third with 35 points.

So far 31 riders from nine different nations have participated to the League.
Image Quantum Tyme copyrighted: Astrid Appels for Phelpsphotos.com
Related Links
2004 World Cup Finals Dusseldorf
Evi Strasser Having the Tyme of her Life
Strasser and Holzer to Represent Canada at the 2000 WCYH