2004 CDIO Aachen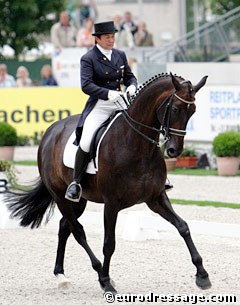 The Intermediaire I class at the 2004 CDIO Aachen only featured 15 combinations. "It's better like this, than have too many and a lower quality," judge Mariette Withages commented. Even in this small class the quality of the horses ranged from superb mover to lame horse.
Distinct winner was Karin Rehbein aboard the Hanoverian mare Cherie. Winner of the 2001 World Championships for Young Dressage Horses, Cherie has now developed into an overmature Prix St Georges horse or an unripe Grand Prix horse. Only defeated once by Holga Finken on Wanesco, Rehbein and Cherie has been the strongest PSG-pair in Germany, winning every single class they enter.
It was no different in Aachen. Cherie showed superb extended trots, a very active extended walk, nice uphill collection and correct flying changes. The 71,80% score left nothing to the imagination.
Placing second in that class was Eward Gal on Gestion Nourejev who showed a nice trot tour with lovely traversal movements, but in the canter the flying changes every two strides were wobbly. They got 69.550% from the judges.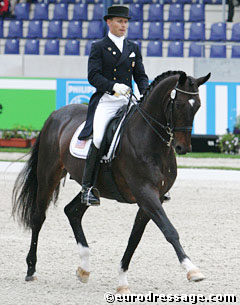 Leslie Morse and her Swedish stallion Tip Top (by Master) form a beautiful pair and belonged to good quality combinations of the class. Tip Top moves with much grace and extends with much balance. Only the pirouette to the left could have been rounder and one change in the tempi's every two strides was short. They scored 67.90% and finished 5th.
Dr Cesar Parra and Horses Unlimited's Licensed stallion Pik L (by Pik Bube II) had a very clear, correct ride, with a decent trot tour. In the canter tour two small mistakes made them lose many points: a loss of impulse in the pirouette and a missed flying change in the tempi's every two strides. Their mark of 65.70% was a bit low for their nice ride. They finished 9th.
Steffen Peters and Marlando, a KWPN bred gelding by the Trakehner sire Balzflug, had some tact errors in the extended trot. The horse sometimes came a bit behind the verticle in the trot. The extended walk was lovely, as well as the tempi's. Peters missed one flying change in between the canter pirouettes.