2004 CDIO Aachen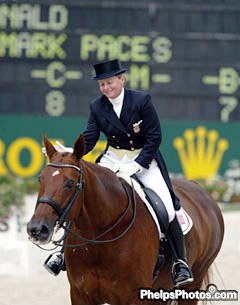 American Grand Prix dressage rider Debbie McDonald has taken the lead in the CDIO Grand Prix on the first day of dressage at Aachen. 38 competitors are challenging each other in the CDIO Grand Prix class
, of which 19 had to ride the Grand Prix on Wednesday. Provisional leader after those first 19 riders is Debbie McDonald.
McDonald took a firm lead in the Grand Prix, riding an impressive score of 74.167%. The 2004 Danish National Grand Prix Champion, Per Sandgaard, ranked second with 71.499% and has rekindled the Danish hope for a team medal at the Olympic Games in August.
Heike Kemmer finished in a disappointing third place with only 70.75%, which is a bit below her level, taking into consideration that Kemmer scored a 74% score in the Grand Prix at the 2004 World Cup Finals in Dusseldorf.
The CDIO Grand Prix is a nations' competition class. Two riders per nation were allowed to compete in the first group. The other American combination that rode the Grand Prix on Wednesday was Leslie Morse on her 12-year old KWPN stallion Kingston.
After establishing a double victory at the CDI-Hagen two weeks before Aachen, Morse had a tight grip on the fourth spot in the American Olympic Dressage Team. Unfortunately, this grip has become less tight now that Morse scored only a 66.583% at Aachen, which is currently not impressive enough to become a team rider.
On Thursday July 15, the other 19 riders in the CDIO Grand Prix will ride in the afternoon.