2004 CDIO Aachen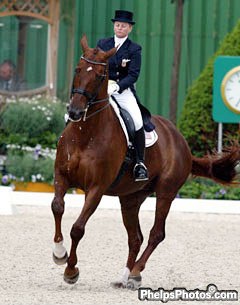 In fourth place was American Debbie McDonald on the Hanoverian mare Brentina with 74.167%. McDonald rode her Grand Prix yesterday in the first group of riders and was provisionally in the lead with her score.
Now that the two groups are combined, McDonald is still the best scoring American rider.
Robert Dover and FBW Kennedy were unable to repeat the top scores they achieved at the American Olympic Selection Trials in California, but received the more than decent mark of 71.458% which placed them 9th in a field of 39 competitors.
The CDIO Grand Prix class was a nations' competition. Never before in Aachen did the countries rank so closely together as this year. Germany won the Nations' Cup with 220.958 points, while Holland followed in second position with 216.876. The U.S.A. placed third with 213.208 percentage points. Denmark was fourth with 212.167. "We always become more competitive, when we hear how much closer the others are coming," Ulla Salzgeber commented.
The competition in Aachen is for many countries the final Olympic selection trial. While Aachen was meant to be a show in which the teams were to prove their existing top show shape, many uncertainties have already sprung up. For Germany, Heike Kemmer and Ann Kathrin Linsenhoff showed below their level, while Hubertus Schmidt and Martin Schaudt surprised all. In the Dutch team, Antoinette Falandt withdrew because of a lame Jarwo and was replaced by Marlies van Baalen on Idocus, and in the American camp, Lisa Wilcox has chosen not to compete in Aachen at all.
It will take until the final day and final test for the Chef d'Equipes to make their final decision in who to send to Athens for the 2004 Olympic Games.