2004 CDIO Aachen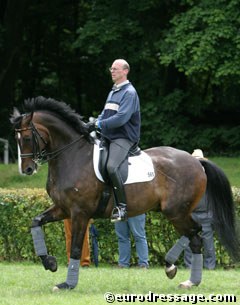 Even before things really got started at the CDIO during the World Equestrian Festival in Aachen, everything was over for the German top rider Klaus Husenbeth (48)
: His 12-year-old Hanoverian gelding, Piccolino, whom the businessman from Sottrum won team gold with at the World Championships in 2002 and at the 2003 European Championships, went lame on the left foreleg from one minute to the next.
"We have no explanation for it", said the German team coach, Holger Schmezer (57) at a loss, "during the morning training session Piccolino was perfectly sound. A few hours later he was noticeably lame.
The vetinarians had no choice but to exclude his horse from the competition. So, unfortunately, to my extreme regret, the topic of the Olympics is over and done with for Klaus Husenbeth and Piccolino."
Image copyrighted: Astrid Appels/Eurodressage