2004 CDIO Aachen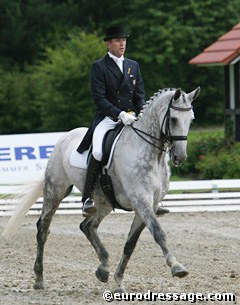 American Guenter Seidel won the well occupied CDI Grand Prix on Thursday July 15, 2004, at the CDIO Aachen. Competing against 21 other top Grand Prix riders, American Guenter Seidel and his Bavarian warmblood gelding Aragon
(by Abydos) scored the highest with 73.500%. The judges placed Seidel first, though Swiss Burchler Keller saw Seidel in fourth place, and German judge Volker Moritz in second place.
Hubertus Schmidt followed closely on Seidel's heels with his 73.167% score aboard the Hanoverian mare Wansuele Suerte (by Warkant). Schmidt has to produce top scores this weekend at Aachen, because it is his last chance to capture a spot in the German Olympic Team. To procure a place on the "Mannschaft" Schmidt has to beat Martin Schaudt's performance in the CDIO-tour.
Placing third in the CDI Grand Prix were Ellen Schulten Baumer on the impressive Hanoverian gelding Lesotho (by Lauries Crusador xx). Schulten Baumer scored 71.708% and beat Ann Kathrin Linsenhoff on Wahajama (by Warkant) who got 71.583%.
Steffen Peters and Floriano, who are also vying for a place in the American Olympic Team, had a good ride and scored 71.167% which put them in 6th position.
Robert Dover's Rainier seems to be over his summit condition and got only a 67.458% from the judges. The combination ranked 14th.
Colombian Dr. Cesar Parra, who resides in Whitehouse Station, NJ, and is currently training with Hubertus Schmidt, finished in 20th place with a 64.542% aboard his Selle Francais stallion Galant du Serein.