2004 CDIO Aachen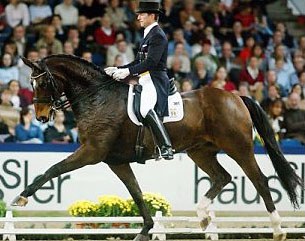 The German Olympic Equestrian Committee has announced the Grand Prix dressage team that will compete at the CDIO Aachen as final rehearsal prior to the Olympic Games.
Following the German Dressage Championships in Balve, German chef d'Equipe Holger Schmezer has selected Germany's top four combinations to compete in Aachen. Ulla Salzgeber with Rusty, Heike Kemmer with Bonaparte, Ann Kathrin Linsenhoff with Renoir and Martin Schaudt with Weltall VA are the named riders.
If this team succeeds at scoring high in Aachen, Schmezer will most likely name these four the German Olympic Dressage team members. Aachen is the final phase in the German Olympic selection trials.
Also competing at Aachen will be the newely formed American Dressage Team. After the American Olympic Selection Trial Finals in California, Debbie McDonald (Brentina), Robert Dover (FBW Kennedy), Guenter Seidel (Aragon/Nikolaus) and Lisa Wilcox (Relevant) have been named the key players of the American team. The two alternate riders are Steffen Peters (Floriano) and Leslie Morse (Kingston). According to the American selection procedures, Wilcox and Peters will be required to compete head-to-head in designated pre-Olympic European competitions to vie for the fourth spot on the Olympic Dressage Team. These competitions will be Aachen and Lingen.
Image copyrighted: Baumann
Related Link
Eurodressage "On the Scene" at the 2004 CDIO Aachen