German Dressage News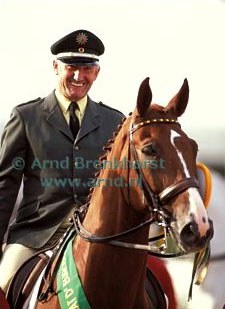 Klaus Balkenhol's Champion horse Goldstern has passed away. The 22-year old Westfalian gelding Goldstern suffered a severe colic attack and had to be humanly put down.
The last month of his life "Goldi" had already dealt with several light colic attacks. "We agreed with our vet, that Goldi wouldn't be put back on his feet at any price. He didn't deserve to suffer," Judith Balkenhol said. Goldstern was operated on but when it became clear that five meters of the small intestine had died, Goldstern was put down.
Golstern (by Weinberg) was bred by Willi Altemeier from Delbruck, Germany, and was purchased by the Police Garde of Dusseldorf for 3,500 €. Goldstern became the steady partner of Balkenhol in the police force, succeeding Balkenhol's Rabauke.
Balkenhol and Goldstern won team gold at the Olympic Games in 1992 and 1996 and individual Bronze at the 1992 Olympics of Barcelona. At the 1994 World Equestrian Games in The Hague, the pair claimed team gold and individual silver in the kur. Furthermore, they went on to win team gold at the 1993 and 1995 European Championships, and five times the German national dressage title. Goldstern was retired in 1997 and lived in Rosendahl at Balkenhol's private stable, where he had the nicest stable overlooking Klaus' terrace. "He will be greatly missed," Klaus said.
Image copyrighted: Arnd Bronkhorst
Related Links
Klaus Balkenhol and Goldstern
Klaus Balkenhol Celebrates 60th Birthday
Klaus Balkenhol Appointed U.S. Dressage Team Coach