2003 CDI Sunshine Tour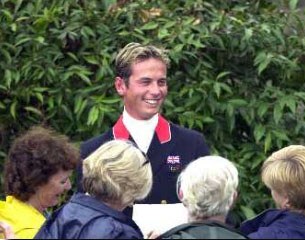 Carl Hester's Sunshine Tour successes in Spain with Escapado should provide a much-needed boost for British team hopes. Going into this final weekend of the three- week tour at Dehesa Montenmideo
, Hester and the ten-year-old Ex Libris gelding have dominated the grand prix tour with scores on and around the 70 per cent mark.
But, incredibly, Escapado's first international grand prix week win two weeks ago was also the horse's first EVER test at this level. Then last weekend, the beautiful dark bay gave Carl a dream ride to win the Special on 70.44 per cent in an unanimous verdict from all the judges, again at his first ever attempt at this test.
Escapado, owned by Carl in partnership with Rowena Luard, was bought as a five-year-old from Mette Assouline. He has a lot of thoroughbred blood and it has taken time for him to channel his energy towards his work. Carl recalls: "Knowing I like 'hot' horses, Mette phoned to say she had one that was 'wild but not crazy' and could suit me down to the ground if I was interested. He's an exceptionally loving horse, and a natural athlete, but in the beginning his first instinct was to turn and run. Now he is trusting me more rather than looking at what else is going on, and in the Special, I couldn't believe what a wonderful ride he gave me."
"Of course he is going to need time, but I have been told by several respected judges and trainers that I have a top ten horse here. It is exciting to make such a debut and to know there is a lot more still to come."
Carl has represented Great Britain on the team many times since his debut at the Barcelona Olympics in 1992 as the youngest ever rider to make a British dressage team. Despite winning more national titles than any other British rider (including the small tour championship with Escapado last September), he is not currently on the lottery-sponsored World Class Performance programme. If the British selectors are serious about wanting to qualify a team for Athens, expect this to change!
Article EXCLUSIVELY copyrighted for Eurodressage.com
Image copyrighted: Arnd Bronkhorst
Related Link
Scores 2003 Sunshine Tour - Week 3 - Week 2 - Week 1