2002 CDI Wellington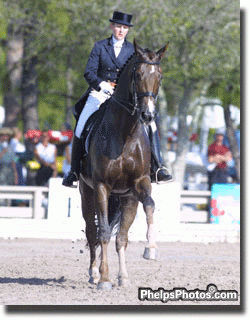 Mary Hilton, press officer for the American Equestrian Newspaper Sidelines, reported on Susan Dutta's excellent performances with the Hanoverian mare West Side Lady at the Cosequin Winter Equestrian Festival.
The WEF kicked off with the Wellington Dressage Show, January 31 to February 3 at Palm Beach Polo Equestrian Club in Wellington, Florida.
The Intermediaire I class was Dutta's first show with the West Side Lady and the first time the duo had performed their Kur. Choreographer Marlene Whitaker created the freestyle for West Side Lady a year ago, but it was performed by Tina Konyot who rode the mare during Dutta's pregnancy. "It's West Side Story for West Side Lady," said Dutta. "It's very beautiful music. It suits her. It's supposed to be soothing and yet still fun." Dutta said she ran through the Kur for the first time the night before the competition. "Everything went really well. I'd heard the music many times and I'd seen Tina do it, so I knew it was going to work."
But having watched Konyot and West Side Lady, Dutta felt pressure to live up to their success. "I was a little nervous because Tina did so well with the horse that I wanted to do well with her too. I just had my baby four months ago so I'm just getting fit again. This mare has a big trot to ride so there's a lot of fitness necessary to ride her well."
Dutta credits her personal trainer, Richard Egan of Wellington, Florida, for getting her into shape. She started working him a week after giving birth to baby Timmy (named after his father Tim Dutta) and she continues to work out with Egan three times a week.
West Side Lady is a nine-year old Hanoverian mare known as 'Fergie' because she is "a red-haired Duchess," according to Dutta. The mare is by Westbury out of a Landberg line mare. "She's well bred," said Dutta, who purchased her from the Weiss family in Jackson Hole, Wyoming, a year and four months ago. "She'll be a Grand Prix horse. She does everything. I need a chance to get to know her, so I'm going to hold her back, get her basics, and build a partnership this year. Then I'll move her to the Grand Prix in the summer after Gladstone."
West Side Lady already had an impressive show record when the Weiss' both her in Germany. She holds the highest score in the history of the keuring (mare test) for mares in Germany; she was third in the Bundeschampionate as a three-year-old, and she won the same competition as a four-year-old. The mare got sold for a top amount of money at the Verden Elite Hanoverian auction.
Related Links
Source: Sidelines
Dressagedaily: Tina Konyot and West Side Lady
Dressagedaily: Susan Dutta Dominates FEI Freestyles at Wellington Dressage