BWP Breeding News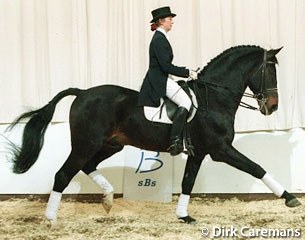 The Belgian warmblood horse Abner (by Abiran xx x Humanist) was presented last Monday at the 1999 Belgian Sport Horse stallion approval. The SBS (Belgian Sporthorse Studbook) approved this magnificant dressage star because of his long list of achievements
in international dressage competitions.
Abner is the mount of the Belgian Mieke Lunskens for 20 years now. He participated in 4 European Championships, 2 World Championships and, most important, one World Cup Final. After all these years he is still the only Belgian horse that ever competed in the Grand Prix Speciale at the CDIO of Aachen. With his brilliant career he was easily proclaimed Horse of the Year in 1989.
Even though he is considered the pride of the Belgian Warmblood Association, the association never took the chance to approve him as a breeding stallion. Abner was presented twice at the BWP Stallion licencing.
The SBS did register the stallion, who is now at an age of 22, into their studbook because of his achievements. Abner is a full brother to Vicky Smits' Illuster who was the silver medalist at the European Junior Riders' Championships.  That "The Boss" was still in excellent condition and health was shown in a small demonstration at the selection day.
More information (and images) on this stallion can be found at Hippofoto
Picture copyrighted by Dirk Caremans