Eurodressage F.O.C.U.S.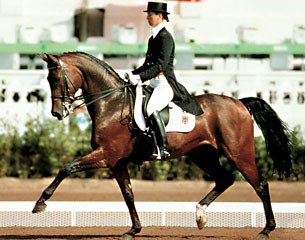 As most dressage riders know, skill and talent will get you only so far if you don't have the right horse. True world-class equines are hard to find and even harder to keep sound and happy over the course of an international competitive career.
And those once-in-a-lifetime, household-word-making horses— the Gifteds, Bonfires, and Ahlerichs— usually come along, well, just once in a lifetime— if a rider is exceedingly lucky. 
Germany's Nicole Uphoff was catapulted to international dressage stardom at the tender age of 21 by just such an equine superstar: Rembrandt Borbet, a horse she had purchased as a three-year-old. Winner of back-to-back individual Olympic gold medals in 1988 and 1992, the young woman and the refined-looking, often-explosive bay Westphalian gelding by Romadour II captured dressage enthusiasts' collective imagination with their expressive, breathtaking performances. But after Rembrandt's retirement in 1996, after an unsuccessful bid for a third Olympic gold medal, Uphoff found herself without a top horse to ride and beset with personal troubles as well. Fate appears to be smiling on the young champion, though, and today Uphoff, 32, is poised to make headlines once again. 
Golden Beginnings 

Uphoff made her first splash in the fiercely competitive world of German dressage by sweeping the individual and team gold medals at the 1987 European Young Riders Championships in Cerbia. Coaching the 20-year-old was Dr. Uwe Schulten-Baumer, best known as fellow German Olympic gold medalist Isabell Werth's mentor and trainer. Uphoff rode--and won--her first Grand Prix test later that same year, beating former Olympic champion Christine Stuckelberger on the Swiss rider's own turf in Lausanne, Switzerland. 
The following spring, Uphoff, who had already studied with famed German trainers Fritz Tempelmann and Klaus Balkenhol before she began working with Schulten-Baumer, found a new trainer: Harry Boldt, then chef d'Èquipe of the German dressage team. She says Boldt gave her more freedom to learn to solve problems on her own, and that his training methods stressed the basics and "deep" relaxed conditioning work. 
Olympic Stardom 
Having amassed 70 Prix St. Georges victories, top competitive rankings, double gold medals at the European Young Riders Championships, and a third place at the German Championships for Grand Prix riders in just three years' time, Uphoff had proven herself worthy of a berth on the 1988 German Olympic dressage squad. A week before the competition, Uphoff further distinguished herself from her older teammates (Ann Kathrin Kroth, Dr. Reiner Klimke, and Monica Theodorescu) by galloping Rembrandt on the racetrack or doing simple flatwork while the others drilled Grand Prix test movements. But the relaxed strategy paid off: Uphoff went for broke in the Grand Prix Special, earning a world-record-setting 1521 points and becoming the youngest-ever Olympic dressage champion. 
The Comeback Kid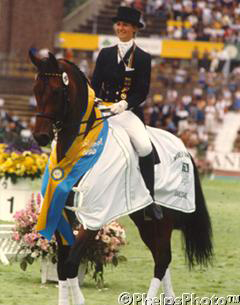 Rembrandt and Uphoff continued their winning streak at the 1990 World Equestrian Games in Stockholm, Sweden, with an almost-perfect test and a score of 1517 points. A mere year later, however, some well-known trainers, riders, and breeders were saying that Uphoff's "dream career" was over, as Rembrandt won one Grand Prix but had to settle for third place in the Special at a German National competition and fifth at the 1991 German Championships.Taking Uphoff's place in the victory gallops were Isabell Werth and the powerful Hanoverian Gigolo. 
Still, Uphoff and Rembrandt made the team for the 1992 Barcelona Olympics; and, with teammates Werth, Theodorescu, and Balkenhol, their chances of coming home with a team gold medal looked excellent. But the individual gold medal was up for grabs, and Uphoff knew she would have to fight harder than ever before to fend off Werth's challenge. 
The nine-year-old Gigolo, already an experienced Grand Prix competitor, put in a powerful individual Grand Prix test with just a few minor mistakes, earning Werth a score of 1551 points. Despite the pressure, Uphoff says, she had a very good feeling when she entered the ring. The audience watched in silence as Rembrandt gave the performance of his life— one that, spectators agreed, was how dressage should look. The pair received a standing ovation and a score of 1626— more than sufficient to earn them their second consecutive Olympic championship. Germany's dominance of Olympic dressage was made complete by Werth's individual silver medal and Balkenhol's individual bronze— and, of course, the team gold. 
A Time of Transition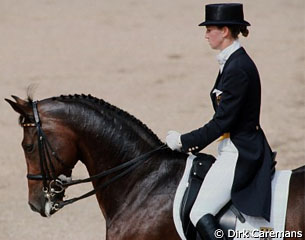 The period between Barcelona and the 1996 Atlanta Games was one of changes and challenges for Uphoff. She was now married to German show-jumper rider Otto Becker; and Rembrandt sustained a potentially career-ending injury in 1993, when he was kicked during the awards ceremony at the CHIO Aachen and underwent surgery to repair a fractured hock. He made a remarkable recovery, coming back the following year to win a silver medal in the Grand Prix Special at the 1994 World Equestrian Games in The Hague, the Netherlands; and Uphoff-Becker wanted to take the 20-year-old veteran to his third Olympic Games. 
As the reigning Olympic dressage champion, Uphoff-Becker exercised her right--as set forth by the International Equestrian Federation (FEI)--to compete in the next Games. She and Rembrandt traveled to Atlanta as individual competitors, and their decision prompted much debate in dressage circles worldwide. Rembrandt placed ninth in the Grand Prix, with a score of 70.04 percent; and eighth in the Special, with a 73.02--good enough to qualify him for the individual finals. But he failed to pass the Friday-morning jog and was held for re-inspection, prompting Uphoff-Becker to withdraw from the competition. Later that year, she rode the horse in a series of farewell performances and formally retired him at the CDI Dortmund. 
More setbacks were in store for Uphoff-Becker. In the two years after Atlanta, her other Grand Prix horse, Hermann's Grand Gilbert, went back to his breeder following recurring illnesses that cast doubt on whether the horse would be able to serve as a German team mount. (Happily, Grand Gilbert returned to health and went on to win the prestigious German Gold Medal with his breeder's daughter.) Another promising horse, Borbet Sir Lennox, was not yet ready for Grand Prix. There were difficulties in her private life as well, and she and Becker separated in late 1997 and were divorced soon after.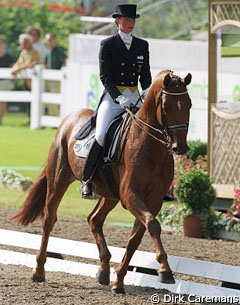 Things began to turn around for Uphoff in the spring of 1998. With Martina Hannover's departure from Vorwerk, Germany's most successful private dressage breeding farm, the Oldenburg stallion Borbet Rubinstein was without a rider. After ten years of training at the German Equestrian Center in Warendorf, Uphoff left for northern Germany to establish a training stable at Vorwerk. She now had Rubinstein and several quality get to ride and compete. 
Today, with Rubinstein's chestnut son, the stallion Relevant, Uphoff is Germany's winningest Prix St. Georges competitor. Rubinstein himself has made considerable progress in a year's time and has won numerous national competitions. At this year's CDI Frankfurt, she was once again storming to the top with a score of 75.18; and she's a member of the German dressage squad that will compete at the 1999 European Championships in Arnhem, the Netherlands, this June--coached by her old trainer, Klaus Balkenhol. A dressage commentator on German television (with her own TV show in the works), she has been named Germany's Sportswoman of the Year and has earned German National Honors in recognition of her contributions to equestrian sports in her country. If all goes well, this talented and lucky young woman may be Olympics-bound for the fourth time--and to think that she still has practically her whole life ahead of her!
Images copyrighted: Mary Phelps - Dirk Caremans